Address: Södra Skeppsbron 15, 802 84 Gävle
Gävle Tourist Centre is a blue/yellow authorised tourist centre, centrally located in Gävle's Guest Marina. We are open all year round and can help you with information and tips on local attractions, events, restaurants, accommodation, activities, swimming and fishing in Gävle and the surrounding area. 
We act as an agent for many cottage/cabin owners in Gästrikland and we can also help you to book your accommodation and holiday packages. At the Tourist Centre we have brochures covering all of Sweden and we also sell souvenirs. You can purchase gift vouchers for the Gävle Concert Hall and Gävle Theatre as well as tickets to Entré Gävle and local events. Access to the Internet for information and reservations is available at the Tourist Centre.
Contact details:
Tel.: (+46)026 - 17 71 17
E-mail: turist@gavle.se
Address: Södra Skeppsbron 15
Post code: 802 84 Gävle
Opening hours:
Monday - Friday 11am to 3pm.
Opening hours 20th of May: 11am to 12pm
21-22st of May: Closed
Please note that we do not accept payment by cash.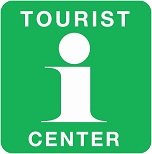 We have been authorised by the trade association Visita.